Maine Road Map
---
The scalable Maine map on this page shows the state's major roads and highways as well as its counties and cities, including Augusta, the capital city, and Portland, the most populous city.
A Winding Road Curves Through Autumn Trees in Maine
Maine Map Navigation
To display the map in full-screen mode, click or touch the full screen button. To zoom in on the Maine state road map, click or touch the plus (+) button; to zoom out, click or touch the minus (-) button. To scroll or pan the zoomed-in map, either (1) use the scroll bars or (2) simply swipe or drag the map in any direction. (The scrolling or panning method you use will depend on your device and browser capabilities.) At any time, you can display the entire Maine road map in a new window or print this page, including the visible portion of the map.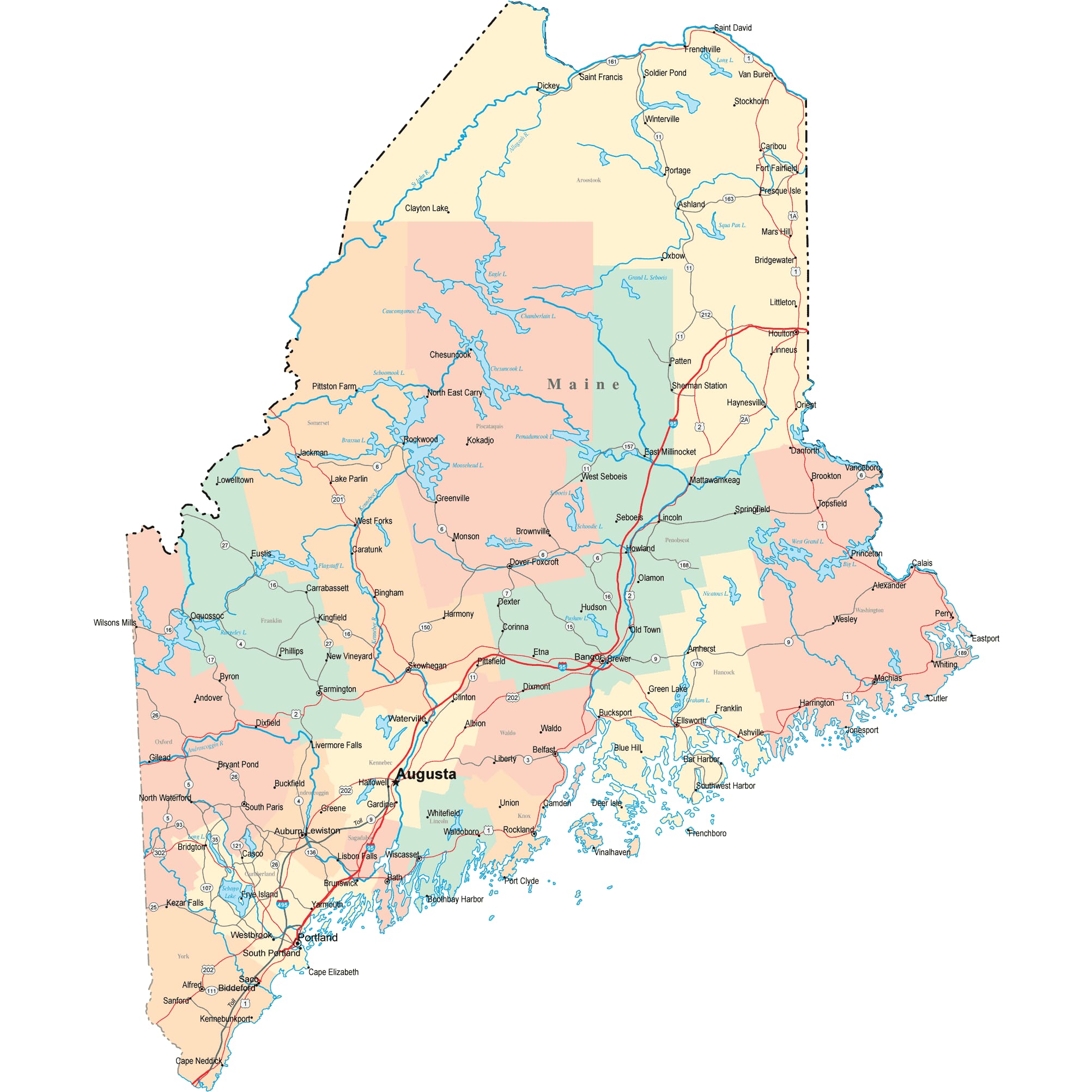 The following Map Legend and Scale of Miles apply to the road map on this page, at its largest displayed scale.
Maine Map Legend
Maine Map Scale Of Miles
Maine Interstate Highways
Maine's Interstate Highways connect its major cities and facilitate travel between Maine and its neighbors to the northeast and southwest. In Maine, I-95 runs from the New Hampshire border, through Portland, Augusta, and Bangor, to New Brunswick province, its northern terminus. I-195 is a short feeder highway that links I-95 with Saco, near the southern coast. I-295 serves Portland, Brunswick, and the coastal region northeast of Portland. I-395 connects I-95 with Brewer, which is a gateway to Mount Desert Island.
Maine Scenic Routes
From Brunswick to Ellsworth, there are many notable coastal New England towns and state parks that are best encountered via a trip north on Route 1 and its meandering side roads. Stop by the Maine Maritime Museum in the town of Bath, and visit the never-completed Fort Popham at Popham Beach State Park. The fishing village of Boothbay Harbor offers sightseeing tours by boat, and the town of Rockport has a chamber music venue plus a variety of restaurants, shops, and art galleries. Further east, Holbrook Island Sanctuary makes an ideal stop for a hike and a picnic. More information about scenic roads in Maine is available on the America's Byways: Maine page.
Maine Road Travel Resources
For more information about Maine's roads and transportation infrastructure, visit the Maine Department of Transportation website. For Maine road traffic conditions, visit the Federal Highway Administration's Maine Traffic Information page.
---
Copyright © 2005-2022 State-Maps.org. All rights reserved.
Maine-Map.org is a State Maps reference source.

Maine Road Map
Maine Travel Map - ME Highway Map